YOU // SOMEONE THAT INSPIRES YOU // SMELL YOU ADORE // SOMETHING YOU DO EVERYDAY // A FAVORITE WORD
KITCHEN // SOMETHING THAT MAKES YOU HAPPY // MUM // GRASS // LOVE
WHAT YOU'RE READING // SNACK // SOMETHING YOU MADE // FAVORITE PLACE // SOMETHING YOU CAN'T LIVE WITHOUT
WHERE YOU STAND // PINK // TECHNOLOGY // SOMETHING NEW // UNUSUAL
12 O'CLOCK // SOMETHING SWEET // WEATHER // NUMBER // PERSONALITY
Completing this challenge this month left me with a great feeling of accomplishment. I had tried every month since February,but I always seemed to forget and then not start back up again. This month, I'm not going to lie,I did miss a few days, but then I just made up for them the next day and moved on. I made so many small memories that I wouldn't have remembered if it weren't for the challenge and I enjoyed documenting parts of my life that I would usually deem insignificant if it weren't for this challenge.
Here's a brief description of each picture!
I found peace in a bible verse pinned to the bulletin board outside of the Biology lab. While waiting for bible study, the airplane across the skyline reminded me that I'll be going home soon, but made me wish the boyfriend could come with me. I wore my favorite pair of flats. I saw Avengers on opening day. A crow made me think it was a hawk when I first looked at it. I have been sick for a majority of the month. I inspire myself, but my cousins and my boyfriend also play a large part in that area of my life. The smell of oranges makes me happy. Brushing my teeth is something I do everyday, and hopefully you do too! RAWR is my favorite word. Self portrait in my kitchen mirror. Chocolate makes me happy and the fact that my aunt gave it to me to make me feel better makes it that much better. I miss my mother, but I'll see her soon. GRASS. I love cheese, but I'm lactose. Been reading Chronicles of Narnia all month long. Pizza rolls, was more of a quick lunch before work. I made the dream catcher in third grade. My bedroom is one of my favorite places. I cannot live without God and his forgiveness. I used to stand at the Blockbuster register all day, but not anymore! I got to take home some pink markers that I found while cleaning out Blockbuster. Without technology, my career would have no future! Bought this new dress to wear on my birthday. At 12 o'clock, I was still in my pajamas! It's really sweet when my boyfriend buys me food. The weather was perfect for a barbecue! My order number at Taco Bell was 200. My personality is like a box of crayons: colorful, bright, dull, sharp, etc. Last, but not least, I know I'm beautiful!
Now to take on June's PhotoADay Challenge!
Here's the list if you want to participate in @fatmumslim's PhotoADay Challenge this month. All you have to do is snap a picture each day and upload it via Instagram using the hashtag #photoadayjune.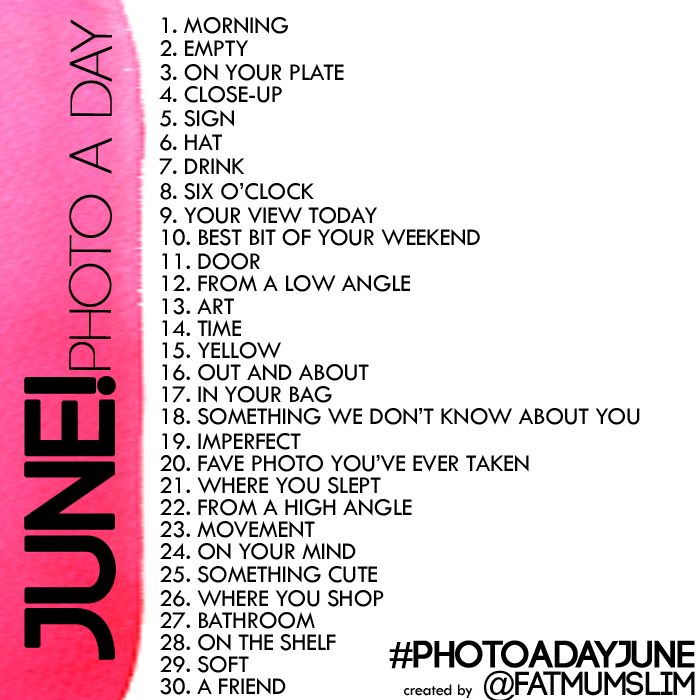 Follow along with my June Photo A Day Challenge at:
Instagram: @caitmonstro
Twitter: @caitmonstro