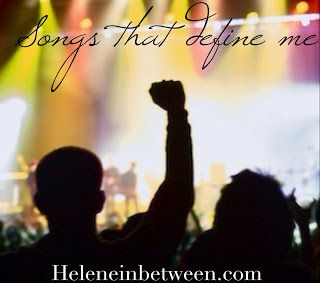 Helene from
Helene in Between
is hosting a link up today! And it's about music. Yes, please!
I found Helene's blog not to long ago when she commented on some of my posts and I have been following her ever since. Her posts are really interesting and I recommend you go read some after you are done listening to the songs that define me. ;]
Songs That Remind Me of High School
Did any of you use playlist.com before iPods got super popular? I spent so much time on that website, adding songs that I loved and organizing them just right. I would listen to that playlist everyday, to the point where my dad knew the songs perfectly and comment on how much he didn't really like them.
Unfortunately, Playlist.com has become more like Pandora, internet radio and while I have the playlist on my iPod, I just realized the songs are not in the right order. Luckily, even though the playlist isn't able to play correctly, they still have the right order!
Some of the songs on the playlist included, but were definitely not limited to:
Songs That Remind Me of My Dad
Because he heard me listening to that playlist all the time, my dad apparently thought I liked Katy Perry, which I totally didn't at the time! He got me her CD for Christmas, and I was all like "Uh. Thanks, Dad." Then I listened to the entire CD and loved her. Any Katy Perry song reminds me of him for this reason.
My favorite was:
Karoake
My sister enjoys preforming and does community theater and all that jazz. When she was little, she was given a karoake machine by my ex-grandfather and she loved that thing. We had little kid songs because she was like seven at the time and we had other songs, like One Week by the Barenaked Ladies, which is incredibly hard to sing, Complicated by Avril and Disney princess songs. OH YEAH.
My favorite song, because I thought I was bomb at singing it, was:
OUR Song
When the boy and I first got together, he played REALLY random radio stations while we were in the car. He claims it was because he didn't know what I liked listening to. Genres would be anything from Top 40 to Country and I mean ANYTHING.
During that time, Lady Antebellum's song, Just a Kiss was played ALL THE TIME. Now it's
our
song.
Every time I hear it, it reminds me of the days when I didn't know how to drive and he would take me home from school.
-cue the awwww's-
Songs I Have to Listen to with the Bestie
My best friend has a tendency to play the same songs over and over and over.
Last semester, we had basically all the same classes so we carpooled to school everyday.
The most played songs were:
Favorite Songs
These are the songs that I will NEVER skip.
Anything by Linkin Park or All Time Low.
But also, Blink 182.
This song instantly makes me smile.
Songs That I ALWAYS Skip
But can't bring myself to delete. I have every Beatles song on my iPod, but I will actually listen to five? maybe. I like the songs, but I also have to be in the mood to listen to them usually. Plus, some of them are just really weird and I kind of got Beatles'd out when working at Blockbuster. It was all we ever listened to.
I also usually skip most of my old Country. This one, I don't know why. Those songs remind me of childhood. (The Garth Brooks song isn't THAT old, but...nostalgia.)
Or my Classical/Piano music, which I use mainly to focus on homework when it's really loud around me.
I hope you enjoyed my song choices!
Don't forget to link up with Helene!
What songs define you?